Wednesday, October 7, 2009 at 7:47PM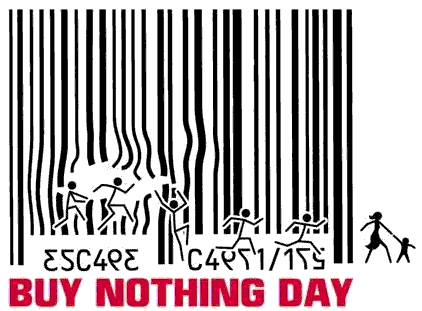 I came across RedLaser last week, an iPhone app that uses the camera to scan barcodes, then looks up related information on the net. I got excited because it reminded me of an idea I logged in big arse in '05: Something like Where's George for tracking the life of objects. It would work by showing you the origin of the thing (say your favorite tennis shoe), the town (in China) it was made in, who made it, the shipping history, and where it might end up (landfill or recycling). My thinking is that, by learning the path, impact, and energy use that goes into almost everything around us, we might question our lifestyle and buying choices. The connection: RedLaser is the front end!
The system would be a wikipedia-style open and collaborative effort, part Sherlock Holmes, part anonymous whistle-blower (insider documentation/pics).
I'm curious: What do you think? What incentive schemes might work in these cases?
(Image representing Buy Nothing Day via the fun Computer History page.)